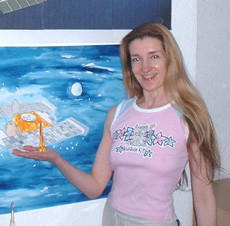 De-ann Black is a bestselling author and scriptwriter. Traditionally published for over 15 years.
She has over 50 books published. Romance, crime thrillers, spy novels, action adventure.
And children's books (non-fiction rocket science books, children's fiction and picture books). De-ann became an Amazon All-Star Author in 2014 & 2015.
She also has twelve new colouring books published in 2016/2015 which have become genre bestsellers on Amazon.
She previously worked as a full-time newspaper journalist for several years. She had her own weekly columns in the press. This included being a motoring correspondent where she got to test drive cars every week for the press for three years.
Before being asked to work for the press, De-ann worked in magazine editorial writing everything from fashion features to social news. And was marketing editor for a glossy magazine.
She is also a professional artist and illustrator. Fabric design, dressmaking, sewing, knitting, photography and fashion are part of her work.
Additionally, De-ann has always been interested in fitness, and was a fitness and bodybuilding champion, 100 metre runner and mountaineer. As a former N.A.B.B.A. Miss Scotland, she had a weekly fitness show on the radio that ran for over three years.
De-ann trained in Shukokai karate, boxing, kickboxing, Dayan Qigong, and Jiu Jitsu.
She is currently based in Scotland.
Scripts & Screenplays
Here is a link to a list of De-ann's available scripts for movies and television series.
Books and Script books
De-ann's books on Amazon UK and Amazon US.
Art, Illustration & Design:
De-ann is also a professional artist, illustrator and designer.
Floral Nature Embroidery Designs.
Colouring Books:
De-ann has twelve new colouring books:
Christmas Garden Colouring Book.
Festive Christmas Colouring Book.
Stargazer Space Colouring Book.
Colouring Book and Journal:
Festive Christmas Colouring Book Journal
Fabric Design, Sewing & Knitting:
De-ann loves to sew, knit and is a fabric designer and artist. And she loves to bake cakes.
She has been sewing and knitting since she was a little girl and her experience as a professional artist, illustrator and photographer helps her to create her fabric designs and sewing and knitting patterns.
Fabric designs on Spoonflower.
Welcome To My World Of Writing
1.8 million words
People often ask me about my writing. I write full–time. They want to know how many words I write in a day (see this post for the answer). Last year I wrote 1.8 million words and wore the keys off my laptop (read about that here). And had to replace the keyboard (see here).
Laptop, desktop and television
Anyway, this post deals with another thing I'm often asked — how do you write so many things at the same time? Well, this is how I organise it…
Laptop
I have one project (book or script) on the laptop. Usually this is one of the novels. Something that I can start writing early in the morning, and then jump back into during the day and work on into the night. I do a lot of editing on the laptop.
Desktop
On the desktop I'll have another project. I find that having the two screens is a bonus because when I'm writing to a deadline and have to work fast, it's quicker to have another chapter or notes for reference that I can glance at. I've got the computer set up so that I can drag documents across from one screen to the other with the flick of the mouse. Again, it's quick and efficient. Sometimes I'll link up a third screen when it gets crazy busy.
Television
I also use the high definition television to work with graphics. I have that set up with the desktop.
Newspaper journalist
Again, as I've mentioned in the past, I'm thankful that I used to work as a newspaper journalist for several years and got used to writing to deadlines. This has helped me as an author and scriptwriter.
I set up the tripod today to take these pics.
Hope this gives you a bit of an insight into my world and how I work as a full–time writer.
De-ann Black books on Amazon UK and Amazon US.
Gallery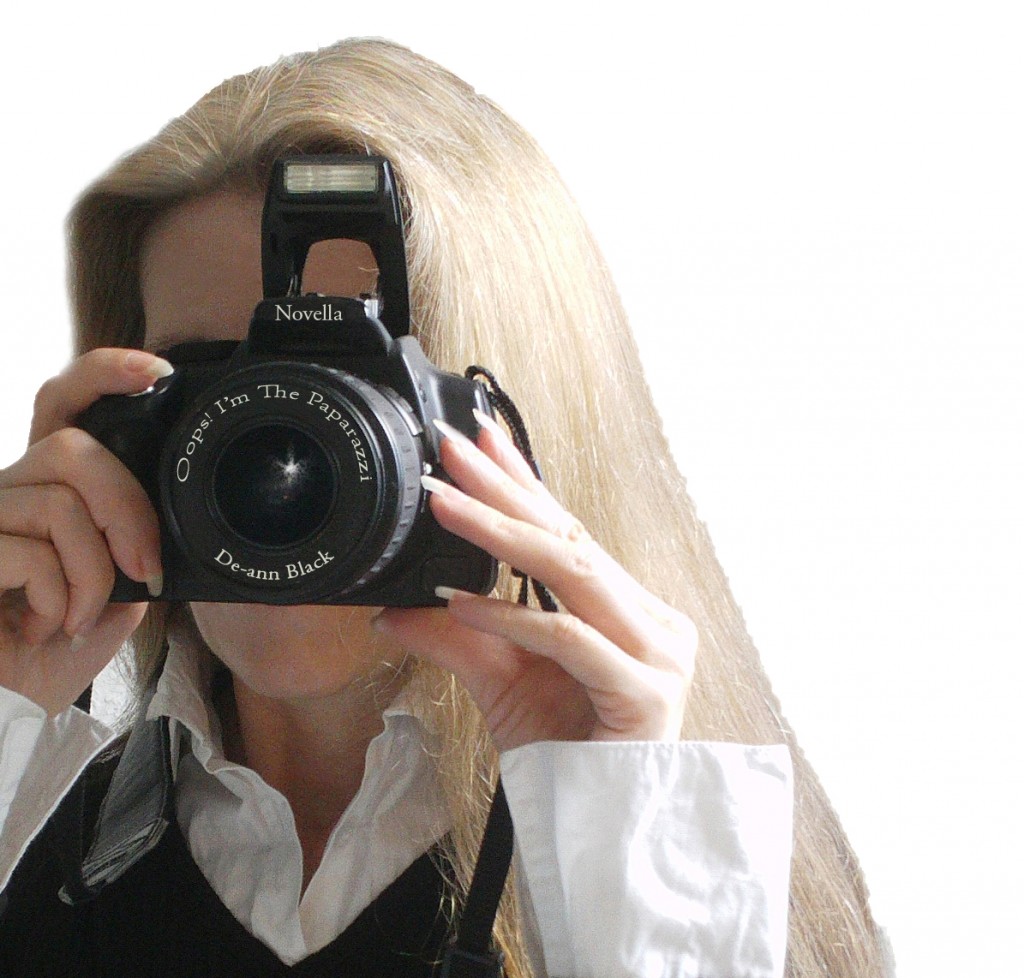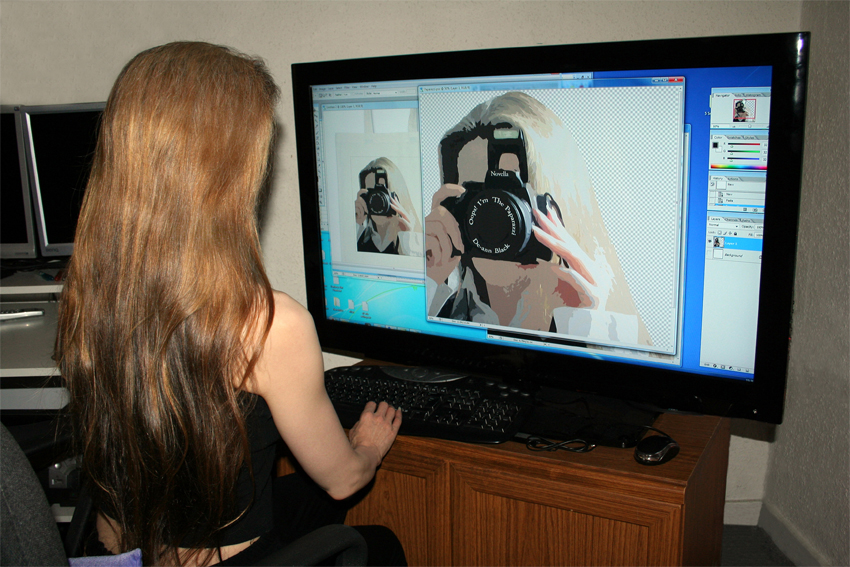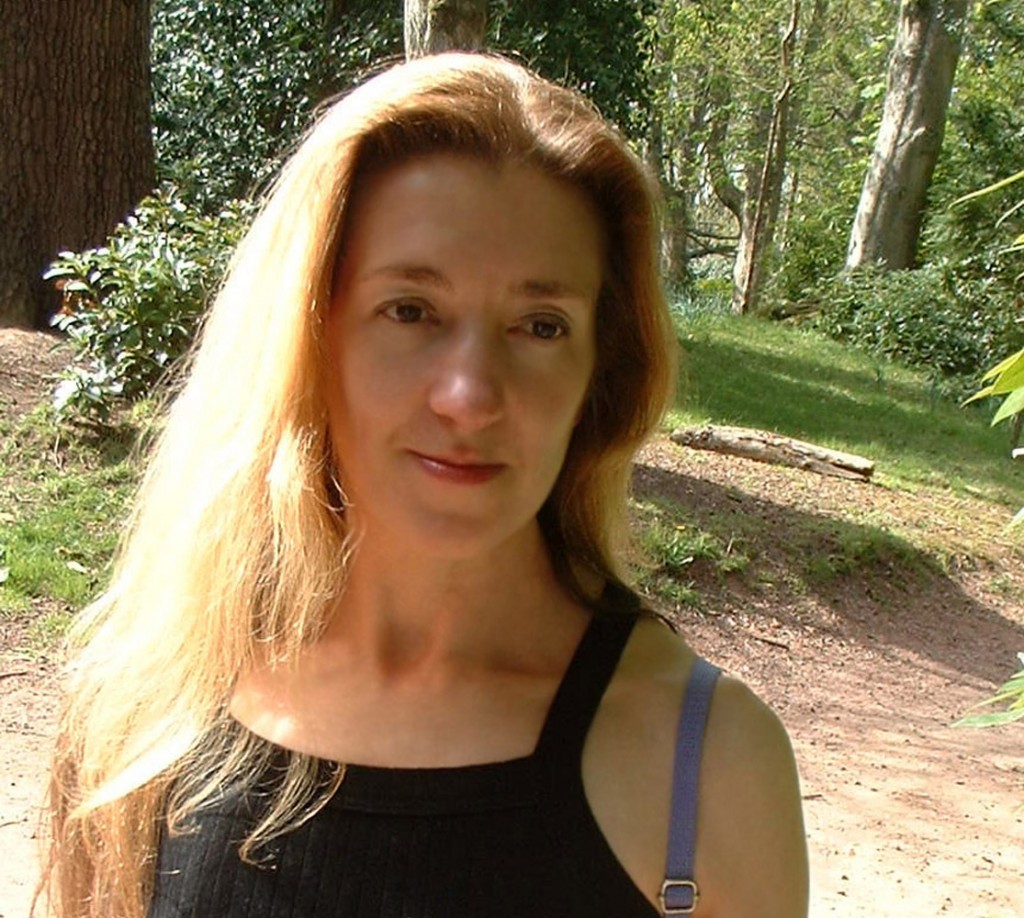 —————————————————————————————–
New releases for 2017
FLORAL NATURE EMBROIDERY DESIGNS
FAERIEFIED: COLOURING EDITION
SUMMER SEWING BEE
THE CHOCOLATIER'S COTTAGE
CHRISTMAS CAKE CHATEAU
New releases for 2016
FESTIVE CHRISTMAS COLOURING BOOK JOURNAL
COSY CHRISTMAS ROMANCES
THE TEA SHOP & SEWING BEE ROMANCES
THE TEA SHOP & TEAROOM SERIES ROMANCES
STARGAZER SPACE COLOURING BOOK
SPRING GARDEN COLOURING BOOK
FAERIE GARDEN SPRING COLOURING BOOK
New releases for 2015
WILD GARDEN COLOURING BOOK
FESTIVE CHRISTMAS COLOURING BOOK
CHRISTMAS GARDEN COLOURING BOOK
SUMMER GARDEN COLOURING BOOK
AUTUMN GARDEN COLOURING BOOK
FLOWER BEE COLOURING BOOK
BEE GARDEN COLOURING BOOK
SEA DREAM COLOURING BOOK
FLOWER HUNTER: COLOURING BOOK
THE BEEMASTER'S COTTAGE
THE SEWING BEE BY THE SEA
THE FLOWER HUNTER'S COTTAGE
New releases for 2014
THE VINTAGE SEWING & KNITTING BEE
CHAMPAGNE CHIC LEMONADE MONEY
THE CHRISTMAS KNITTING BEE
THE SEWING BEE & AFTERNOON TEA
THE TEA SHOP
SHED IN THE CITY
THE BAKERY BY THE SEASIDE
New releases for 2013
CHRISTMAS ROMANCE IN PARIS
THE CHOCOLATE CAKE SHOP IN NEW YORK AT CHRISTMAS
THE CHRISTMAS CHOCOLATIER
CHRISTMAS ROMANCE IN SCOTLAND
THE CHRISTMAS TEA SHOP & BAKERY
THE VINTAGE TEA DRESS SHOP IN SUMMER
DUBLIN GIRL – HOT SUMMER IN THE CITY
THE FAIRYTALE TEA DRESS SHOP IN EDINBURGH
SHOPPING FOR MEN & THE CHOCOLATIER (bestselling script book)
THE BITCH-PROOF SUIT SCRIPT BOOK (bestselling script book)
SHADOWS OF MURDER
CELTIC KISSES
SHOPPING FOR MEN
New releases for 2012
THE TEA DRESS SHOP AT CHRISTMAS
THE BITCH-PROOF BRIDE
THE BITCH-PROOF ROMANCE
SHOPPING FOR MEN AT CHRISTMAS
OOPS! I'M UP TO MISCHIEF
OOPS! I'M A SECRET AGENT
OOPS! I'M A HOLLYWOOD AGENT
I'M HOLDING OUT FOR A VAMPIRE BOYFRIEND
WHY ARE ALL THE GOOD GUYS TOTAL MONSTERS?
CABBIES CABIN (Script book)
WORMHOLE WYND (Children's book)
And the bestselling International spy thriller novel ELECTRIC SHADOWS
Other popular titles
THE STRIFE OF RILEY – thriller set in Glasgow.
THE BITCH-PROOF SUIT – romance set in Dublin and New York.
THE CURE FOR LOVE – romantic comedy set in London and Cornwall.
OOPS! I'M THE PAPARAZZI – romance set in New York.
Children's fiction books
SECONDHAND SPOOKS – DECEMBER 32nd
FAERIEFIED
SCHOOL FOR ALIENS
WORMHOLE WYND
POISON-WYND
SCIENCE FASHION
Click here for her children's book website.
Click here for her scripts/screenplays.
Home page.