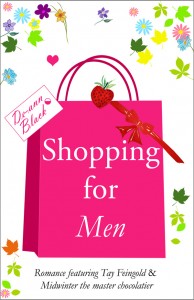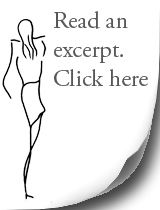 SHOPPING FOR MEN is the second book in this exciting new romance series.
It is a new 21,000 word novella set in Scotland, filled with romance, fashion and handsome men.
Story:
Jaec Midwinter, the handsome and sexy chocolatier isn't sure who he loves. Busy with his chocolatier shop, he hadn't thought that there was time for romance in his life.
Meanwhile, Tay Feingold, the rich and successful entrepreneur who owns the magnificent shopping mansion in Scotland, is intrigued when a new fashion boutique owner, Sylvette, arrives to open her Paris themed shop. Mysterious and beautiful, Sylvette causes feelings of love and loyalty to be tested by Feingold and Midwinter the master chocolatier. Feingold is already busy opening his new venture – the Chateau of Dreams and Shopping in Edinburgh.
Will Sylvette's past prevent her finding the love she longs for? And will Tay Feingold offer her more than a boutique within his mansion? And what about Montroce Wallace the owner of the new bar/restaurant in the mansion's cellar?
And someone really needs to tell Caera, who owns the fairytale tea dress shop, not to kiss Midwinter, even if she has the perfect excuse.
If you enjoy romance, shopping and handsome men, take a peek inside the mansion where you'll find classic clothes, high fashion, shoes, shenanigans and shopping for men.
A whole lot of romance, intrigue, gossip and scandalous behaviour happened last time at the mansion. And it's still happening. Come on in and catch up.
Setting:
A beautiful Scottish mansion has been converted into a great shopping experience, filled with boutique shops, where romance is flourishing along with high heels and fashion.
There is talk that women are shopping there in search of love, perhaps to meet the man or their dreams, and so within the gossip and chatter of the tearoom, cafe and coffee shop the saying has emerged — shopping for men.
Available from Amazon US and Amazon UK.
The Shopping For Men Series includes: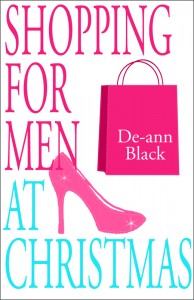 Book 1 – Shopping For Men At Christmas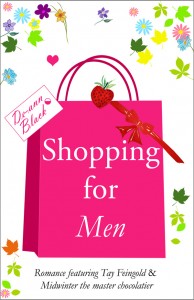 Book 2 – Shopping For Men