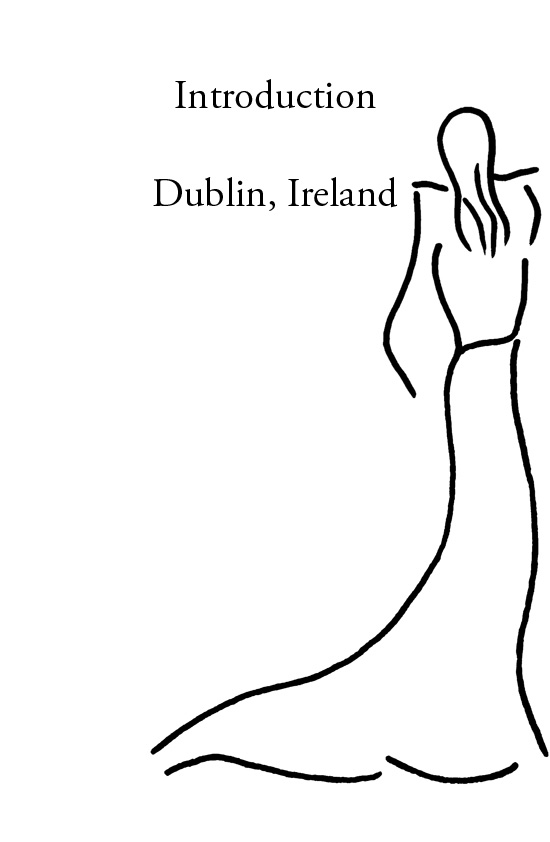 Introduction
Dublin, Ireland
To understand the Bitch–Proof Bride, you'll need to understand about the Bitch–Proof Suit. Here's the short course…
The suit.
I have four bitch–proof suits:
The grey one. This is the original suit. I work for a marketing company in New York. I'm a coolhunter or futurehunter as I prefer to call it. My marketing experience, particularly in the fashion marketing work I've done, helped me create the perfect suit — honing the precise look, the exact tone of charcoal grey for the jacket and skirt, teamed with a white blouse that makes the most of my blonde hair.
It's a suit by no specific designer. I prefer to use bespoke tailors and have my clothes made with twice the precision at half the price. No labels, no trends, just sheer cutting edge class. I was never model material (just prettyish, medium height, slender but shapely). The suit upgrades what I have to work with.
You could cut through glass with the sharpness of the jacket. It's a classic, two button, single breasted design that can be dressed up or down for day or evening. The stitching and finish, from the length of the sleeves to the specific shoulder styling, is perfection personified. The suit skims the figure fluidly, rather than hugs it tight, and creates a shield that deflects and defends the wearer from incoming insults. The longer line jacket flatters my ass from all angles, and the smooth lapels emphasise the female form without shoving it in your face. The hem of the well–cut, modern classic skirt slices just below the knee with no trace of hemming, and of course, on the derriere there is no hint of visible panty line.
The anonymity of the suit and accessories is paramount. No specific designer is crucial. And I select my shoes carefully. My shoes have great heels. Heels that I can run in. Imagine court shoes of the third millennium. Futuristic, functional and fabulous.
When I wear the bitch–proof suit, it seems to disconcert those who'd like to undermine me. And the beauty of it is, they can't pinpoint why — the whole thing is subliminal. All that happens is that they get a feeling of not being able to dish out their usual spiteful comments. It has that effect. No one knows this suit is designed to fight off bitchy attacks and protect the wearer from venomous remarks. It works ninety percent of the time, which is a huge bonus as far as I'm concerned.
I've never told any of my work colleagues or friends about the special design and effect of my suit. They just think it's a suit that I have tailor made. Everything else about it is my secret. I don't want to risk ruining its effectiveness.
So that's the grey suit, but I have variations on its theme. I can't possibly wear the same look all the time. It's not a uniform. I've got a basic black and a classic plaid — and even a red hot scarlet version for specific occasions. However, I have to say, the grey ensemble is the ultimate bitch–proof suit.
I don't wear them constantly; most of the time I wear what I damn well please, but when the occasion merits it, like special meetings or business, I'll wear my bitch–proof suit. Grey, black, plaid or red.
Now that I'm planning to marry Morgan Daire, I'm hoping to design a bitch–proof wedding dress. Marrying this gorgeous, rich and successful Irish businessman, who is also a fashion designer, I'm going to need it. The Irish media have their eyes on him, so by default, they've now got their eyes on me. My idea is to use the same design techniques I used for the suit and apply them to the wedding dress. Again, no one knows about this. All they know is that I'm designing my own wedding dress. They've no idea I'm planning to make it bitch–proof.
The thing about Dublin is, yes it's a city, but when this city takes an interest in you, it's like being in a small town where everybody knows your business. It's one of the things I love about Dublin — its warmth, its friendliness. However, by marrying Morgan, netting a man considered to be a prime prize, I'm now in the spotlight of gossip and curiosity. I'll either get fried or feted. My wedding dress has to be fantastic. I need to be a bitch–proof bride. It's going to be tricky. But hell…I love a challenge!
A whole lot of fashion fiascos, Irish cocktails and scandalous behaviour happened last time when I went to Dublin. And it's still happening. Come on in and catch up.