Twenty–six year old Sadie works as a newspaper journalist in the stressed out, deadline crushing, editorial department of a London tabloid.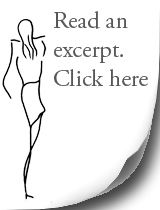 It's Sadie's job to write features for the paper — and to stay sane at the same time. When the top columnist quits to work in New York, Sadie is thrown in at the deep end and becomes the Talkabout columnist for the paper. Talkabout is a newsy, fashion, beauty, nightlife, gossipy column that balances the hard news features in the tabloid.
As the new columnist, Sadie is sent by her editor, Jamieson, who she secretly has a crush on, to cover a feature about an upmarket hairdressing salon in the heart of the city. But like most things in Sadie's life, nothing ever runs according to plan.
For a start, it's raining, so she's soaked by the time she arrives at the salon, which is owned by the gorgeous but overly demanding Cosmo (a renowned hairdressing entrepreneur who can make any woman look great). Cosmo has created a new range of hair colours to transform the average brunette into a sultry bombshell.
Unfortunately, his campaign model leaves him just as he's about to launch his new colour range. Luckily, Sadie arrives on the scene. Cosmo sees something in her that he believes has potential — an exciting, contemporary, everywoman quality, and sets about persuading her to be the brunette bombshell for his advertising campaign.
So begins Sadie's double life. By day, she's the newspaper journalist, and by night she's the woman behind the lustrous look thousands of women want.
Available from: