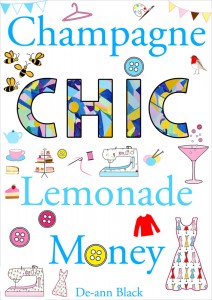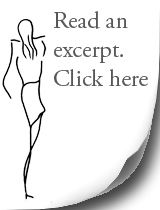 Champagne Chic Lemonade Money is a light-hearted romance set in Glasgow and London in a world of gorgeous vintage dressmaking, pattern making, new fabrics, sewing and knitting.
This is a new book for 2014. First published September 2014.
It is a 35,000 word romance. It's the fourth book in the Sewing, Knitting & Baking series of books. These books can be read in any order.
Book 1 – The Tea Shop
Book 2 – The Sewing Bee & Afternoon Tea
Book 3 – The Christmas Knitting Bee
Book 4 – Champagne Chic Lemonade Money
Note: This is a fictional book, but some fabrics that are mentioned by the characters are listed for availability at the end of the book and on the book's accompanying website. These are designed by De-ann and may be of interest to those who love to sew and enjoy crafting with new fabric designs. Over 50 fabrics are featured.
#1 Bestseller on Amazon
In September 2014 Champagne Chic Lemonade Money became an Amazon #1 bestseller.

Story:
Bee works as a dressmaker in a vintage fashion shop in Glasgow. Joyce, the owner of the shop, has hired Bee and another dressmaker, Alma, to help her repair, upscale and make vintage dresses, skirts, tops and other accessories. The dress shop also has a vintage haberdashery selling bargain fabrics, yarns, and sewing and knitting patterns.
When it comes to make do and mend, Bee, Joyce and Alma offer gorgeous vintage clothes, patterns and fabrics for bargain prices. The shop enables customers to look great for less – Champagne Chic for Lemonade Money.
As the demand for their beautiful vintage clothes and fabrics becomes increasingly popular will Bee make time for romance?
Gilles the handsome owner of the coffee shop next door who bakes traditional cakes, scones and bread, vies for Bee's affections against a mystery man who regularly goes past the vintage dress shop's front window.
In Bee's world of vintage dressmaking, patterns, fabrics, romance, knitting and sewing there's only one thing for sure – there's more than one way to stuff a robin.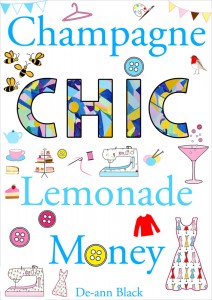 Other books in this series