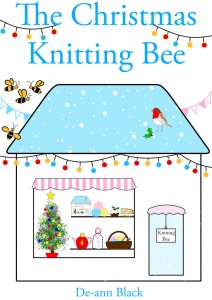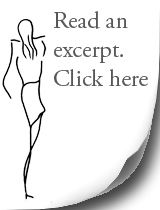 The Christmas Knitting Bee is a light–hearted romance set in Edinburgh. Knitting patterns are included at the end of the book. 40 patterns suitable for knitting and sewing.
This is a new book for 2014. First published July 2014.
It is a 50,000 word romance. It's the third book in the Sewing, Knitting & Baking series of books. These books can be read in any order.
Book 1 – The Tea Shop
Book 2 – The Sewing Bee & Afternoon Tea
Book 3 – The Christmas Knitting Bee
Please note: This is a fictional book, but knitting patterns are included at the end of the book. These are available to download and print as PDFs and are featured with photographs, pattern templates and knitting instructions. (Extended details are available on the accompanying website).
After reading the story you can try your hand at making some of the items that characters refer to in the book. All the patterns, photographs/illustrations and designs featured are by De-ann Black.
You can make lots of things including: a fashion cowl, silver tip wrap, gold stole, silver white muff, vintage cloche hat, bobble hat, wrist warmers, tea cosies and softies, scarves, brooches and necklaces. Knit a snowman, a bumblebee and butterfly softie. Make bows and knitted flower accessories. Knit fairy cake wrist warmers. 40 patterns/templates suitable for knitting and sewing are included. These are also available free from the book's accompanying website.
#1 Bestseller on Amazon
In August 2014 The Christmas Knitting Bee became an Amazon #1 bestseller.

Story:
Tilsie is hired by Agnes to help with the marketing of her knitting shop in Edinburgh. Tilsie is a marketing consultant who also loves to knit, and becomes involved in the shop's Wednesday night knitting bee.
The knitting bee members are busy knitting woolly hats, gorgeous wraps, scarves, festive jumpers, tea cosies, cosy blankets and lots of things for Christmas, as well as gossiping about men and romance.
Having had her heart broken, Tilsie has decided to put romance on the back burner and concentrate on her work. But when she meets, Ewan, the handsome owner of a beautiful home accessories shop near Agnes' knitting shop, and rich businessman Stewarton, Tilsie wonders if she's made the right decision.
The Christmas Knitting Bee is filled with knitting, romance, gossip and fairytale vintage dresses, and a mischievous Santa with a wonky squeaker.
Note:
The Christmas Knitting Bee features a few characters from other popular romances by De-ann. It includes Agnes and her knitting shop from The Christmas Chocolatier and Delphine and Hetty from The Fairytale Tea Dress Shop in Edinburgh.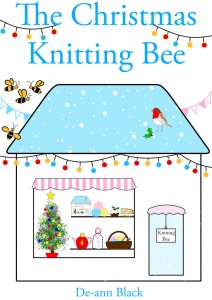 Other books in this series