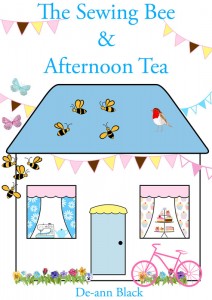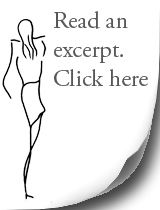 The Sewing Bee & Afternoon Tea is a light–hearted romance set in Scotland and Cornwall. Sewing patterns are included at the end of the book. These patterns include cottage, shed and shop quilt blocks, a sewing machine cover, knitted bee, embroidery flowers and a robin appliqué. Over 20 patterns/templates suitable for quilt blocks, appliqué, sewing, knitting and embroidery are also available free from the book's accompanying website.
This is a new book for 2014. First published May 2014.
It is a new 45,000 word book. It's the second book in the Sewing, Knitting & Baking series of books.
Book 1 – The Tea Shop
Book 2 – The Sewing Bee & Afternoon Tea
Book 3 – The Christmas Knitting Bee
Book 4 – Champagne Chic Lemonade Money
Book 5 – The Vintage Sewing & Knitting Bee

#1 Bestseller on Amazon
In May 2014 The Sewing Bee & Afternoon Tea became an Amazon #1 bestseller.

Please note: This is a fictional book, but sewing patterns are included at the end of the book. These are available to download and print as PDFs and are featured with photographs, pattern templates and sewing instructions. (Extended details are available on the accompanying website).
After reading the story you can try your hand at making some of the items that characters refer to in the book. All the patterns, sewing instructions, photographs/illustrations and designs featured are by De-ann Black.
You can make lots of things including: quilt blocks, a sewing machine cover, robin softie & robin draught excluder, bee apron, knitted bee softie, sewing pattern weights, large sewing bag, pincushions (bumblebee, beehive, butterfly, dress mannequin, teapot, fairy cake), mug rugs, tea cosy, sew tidy books, sewing box book, vintage style embroidery flowers, sewing case and little cottage, shed and bakery quilts.
Story:
Morag goes to live in a beautiful little cottage in the city. The cottage, with its lovely vintage garden, is situated in the heart of Glasgow. Morag leases it during the spring and summer, but the lease has one stipulation — Morag must make the cottage available to the sewing bee every Wednesday afternoon.
Morag designs sewing patterns and fabrics and is happy to do this. She's been living in a flat in Glasgow and plans to enjoy the cottage garden and relax while she works on her new designs and mends her broken heart. But nothing goes according to plan when she meets handsome menswear designer Marck whose aunt Zinnia owns the cottage. Then the gorgeous vintage gardener Ruary climbs over her garden wall and into her life.
Morag's summer is set to be a scorcher of sewing, baking, romance and mischief set in Glasgow and Cornwall.